A newly-discovered drawing by Raphael and an exceptionally rare figure study by Peter Paul Rubens will lead Sotheby's auction of Old Master Drawings in New York on 30 January. The discovery of Raphael's Standing Soldier in Armor (estimate US$800,000/1.2 million) adds an important and beautiful work to the artist's oeuvre. Peter Paul Rubens's Nude Study of a Young Man with Raised Arms offers a fascinating look at the process by which the artist arrived at the final composition for one of key figures in the great altarpiece representing The Raising of the Cross, which Rubens painted for the Antwerp church of Saint Walburga in 1608.
Gregory Rubinstein, Head of Sotheby's Old Master Drawings Department, commented: "This immensely powerful study shows Rubens actually working out the pose of his figure as he goes along. The sense of looking over the artist's shoulder as he develops one of the most important paintings of his career is incredibly moving, and to be able to offer a drawing like this Rubens alongside a significant, newly identified study by Raphael is an extraordinary thrill."
Open to the public on 25 January, the sale will be presented alongside Sotheby's Masters Week exhibitions in New York.
A MAGNIFICENT RUBENS FROM THE COLLECTION FORMED BY KING WILLIAM II OF THE NETHERLANDS AND ANNA PAVLOVNA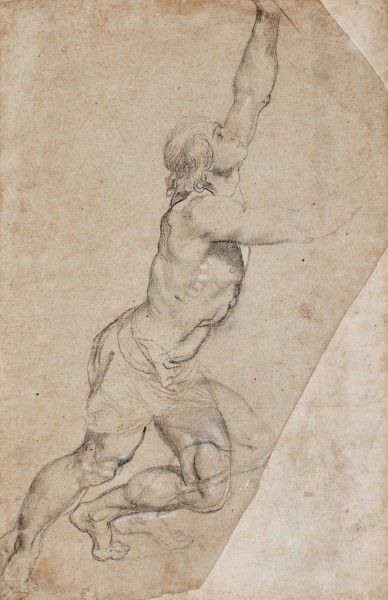 The January sale is led by a group of drawings collected by King William II of the Netherlands (1792-1849) and his Russian wife Anna Pavlovna (1795-1865), who together assembled one of the greatest collections of paintings and drawings that was formed anywhere in Europe in the 19th century. Among the works they owned were masterpieces by Michelangelo, Raphael, Leonardo da Vinci, Rubens and Rembrandt, many of which now reside in major public collections in the Netherlands.
Having passed down privately through the family, Nude Study of Young Man with Raised Arms by Peter Paul Rubens is the first drawing of this scale or significance to have appeared on the market in a generation. Estimated at US$2.5/3.5 million, this large and powerfully drawn study of the nearly nude figure of a young man, straining every muscle to push a heavy weight above his head, is one of a small handful of similarly monumental figure studies that survive for the key figures in the great altarpiece representing The Raising of the Cross, which Rubens painted for the Antwerp church of Saint Walburga shortly after his return from Italy at the end of 1608. Throughout his life, Rubens made substantial, chalk figure studies, but his drawings of this type are at their most imposing and sculptural in these first years back in Antwerp. At this pivotal moment, Rubens made figure studies that are genuinely Michelangelesque in their grandeur, and drawings of this type also take on a more important role in his creative process at this point than at any other time in his career. A key drawing in the development of one of the artist's pivotal commissions, with an astonishingly distinguished provenance, it is one of only a tiny handful of drawings by Rubens of comparable importance to have come on the market in the last half century.
A NEWLY-DISCOVERED DRAWING BY RAPHAEL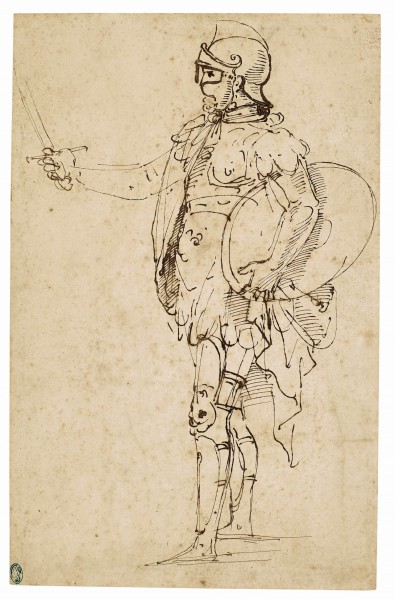 A substantial, newly-discovered drawing of a Standing Figure in Armor by Raphael (estimate US$800,000/1.2 million) dates from the artist's early career in Florence (circa 1506-7). The drawing shows all the unpredictable originality that characterizes Raphael's works of this period. Using only pen and ink, Raphael rapidly drew a standing young soldier in armour; his right arm outstretched holding a sword. The figure's composition represents a moment suspended in time, in which human power is not expressed with action and movement – very little of the body below the heavy armour is actually visible – but rather is manifested in the strength and determination of character of the heroic figure.
Although the attribution to Raphael has only now been re-established, the drawing bears two old inscriptions on the backing sheet, one either 16th- or early 17th-century, the other probably from the 19th century, both of which indicate that the drawing was long thought to be by Raphael. These inscriptions seem, however, to have been obscured by a previous mounting, and are now hard to read without infrared light. The drawing was unknown to scholars, but following its recent discovery, has been recognized by many of the leading experts in the field as a significant early work by Raphael.
A DISTINGUISHED AMERICAN COLLECTION OF 18TH CENTURY DUTCH DRAWINGS AND WATERCOLORS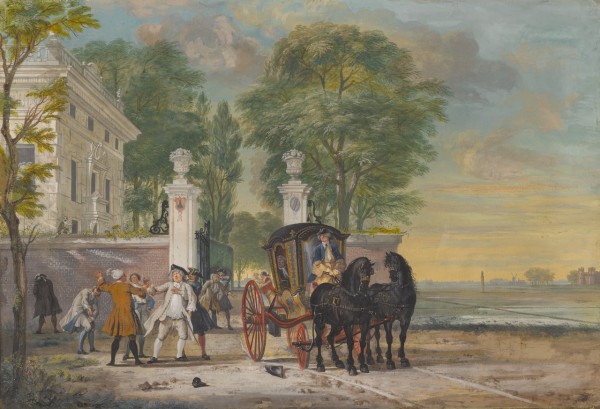 The sale also features an outstanding 46-piece collection of 18th-century Dutch drawings and watercolors, formed with great care and discernment by an American couple over some four decades. Though the drawings of the so-called 'Silver Age' of Dutch art are much less familiar than those of the previous century, many of them are of the very highest quality: humorous gouaches and theatres scenes by Cornelis Troost; designs for decorative wall-paintings for the houses of Amsterdam's wealthy merchants, by leading draughtsmen such as Jacob de Wit and Jurriaan Andriessen; flower pieces by Jan van Huysum; and topographical and other landscapes by Jacob Cats. Works such as these define the distinctive aesthetic of the 18th century in Holland, and form the heart of this fine collection.
A particular highlight is the series of works by the master of gentle social satire, Cornelis Troost, whose Drinkenburg is one of the greatest works by the artist that remains in private hands. This hugely entertaining and visually engaging work, depicting a group of drunken gentlemen departing at dawn from a country house, following a long night of revelry, is executed in a mixture of gouache and pastel that is more or less unique to Troost. Offered with an estimate of US$300/400,000, it is poised to break the artist's auction record of US$175,612, established in 1999 when this same drawing was last sold.
SOTHEBY'S MASTERS WEEK AUCTION CALENDAR
30 January 2019 | Old Master Drawings
30 January 2019 | Master Paintings Evening Sale
31 January 2019 | Master Paintings & Sculpture Day Sale
1 February 2019 |19th Century European Art
2 February 2019 | The Gilded Age Revisited: Property of a Distinguished American Collection
21 January – 5 February 2019 | Old Masters Online